Our Story...
...so our back story is pretty interesting.
Signs4you has been in business for 3 years, but we have been extremely active in the sign industry in Canada and USA for 15 years.
Rather than boring you with chemical processes like polyfusion and the manufacturing process, it's more interesting for you to hear about why we now use HDPE to make customized home address plaques.
Listening to our customers... we were receiving more and more enquiries from new customers wanting plaques that did not fade, especially in areas like Texas, where there is a lot of sunshine. In Florida, customers were coming to us saying that 'off the shelf' signs from local hardware stores were delaminating because of high humidity. In Toronto, it was the snow causing havoc with cracking and in coastal areas fog was pretty well making sure no one could see anything on the low key colors most existing signs were made from.
We also noticed that many of the signs that were being sold elsewhere had no road side appeal, the numbers were too small to read from the end of driveways and they looked tattered after a year or two.
These signs looked boring and didn't fit with the new push where home owners wanted their identity to begin at the front door. They were just not personal.
Let's face it, house holders were unhappy because their front door goals were just not being met with what was available on the market.
Our Mission... We made it our mission to put our heads together and come up with a material that would make an address plaque that was long lasting, affordable, colorful, and stylish and met the expectations of the end user in this evolving market.
The HDPE Solution
Knowing the industry...this is where experience counts. We knew all the materials available and soon worked out that HDPE was the solution. We had been using it for years to make golf signage.
Yip, those great big signs you see when you play a round of golf. The signs that are virtually indestructible and have been left outside in rain, snow, high winds or blazing sunshine all year round.
It just made sense... We could see with our own eyes how good HDPE looked after years outside – it was as good as new. It could easily withstand warping and fading from the sun, water and humidity made no difference to it. It didn't attract mould or mildew. It was also versatile and inexpensive.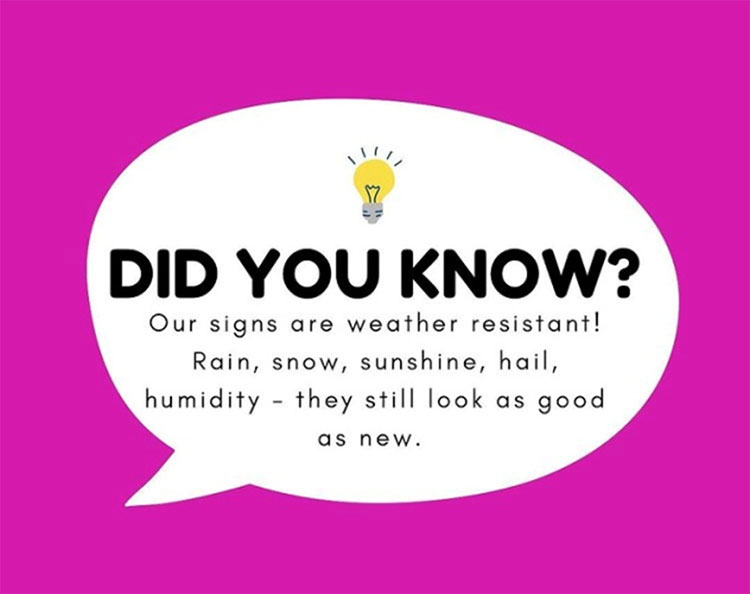 What came next... we did our research, spoke with our customers, looked at other market offerings and came up with 4 shapes, 8 colours and 3 sizes.
Just for you solution... what was coming through consistently from customers was that they wanted their address plaque to properly represent them. They had expectations on what their sign should look like and they wanted it to reflect their hobbies, interests, places they lived, favourite animals and even the sports that they played.
Creating a huge variety of symbols that could be added to the address plaques, at no extra cost, was the natural solution. We introduced lifestyle, animals and sports symbols. There would be something for everyone. The days of 'one size fits all' were gone and our 'just for you solution' arrived. The address plaque that will give ultimate personalization was created.
What makes us different from other sign companies?
As well as using HDPE, we also have an online Signwizard.
At Signs4you we have an intuitive Signwizard that enables the user to see their address plaque onscreen. It's easy to use and every choice that is made such as changing color, shape, size or symbol can be seen in real time as the design progresses. The user can play around with the colours, change the size of the font, try as many symbols as they choose, add or remove their street name, move from shape to shape...The choices are endless.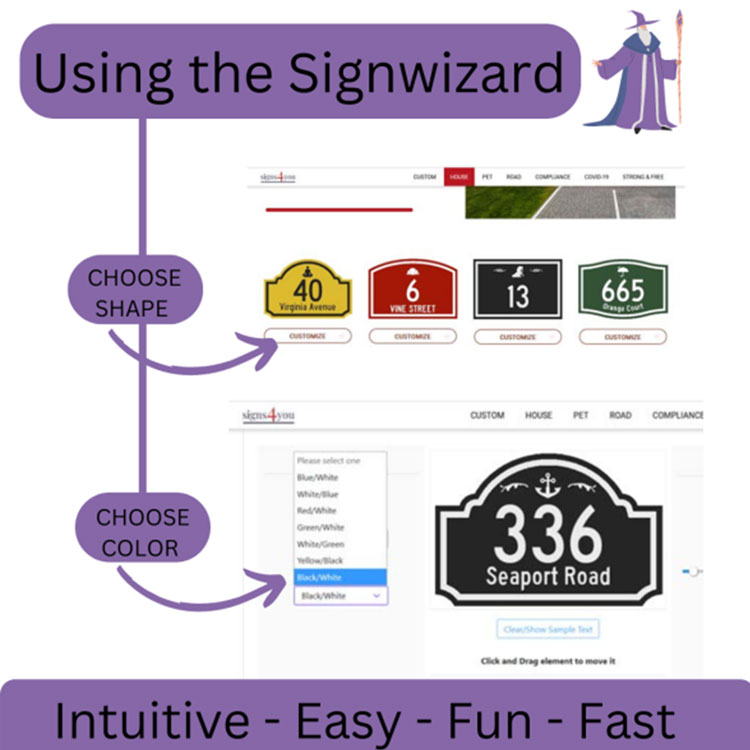 Very few sign businesses offer an opportunity to see your design online as it unfolds – in real time. Traditionally, when a sign was being purchased people just had to go to the hardware store and buy what was available. With the Signs4you Signwizard, the customer has complete control of their final purchase.
Why do you need a Home Address Plaque...?
House clearly identified
Emergency Services - In times of emergency it's important that services can find you. Emergency services can struggle with finding houses where people are in need of help if the property is not clearly identifiable. In some instances, time is of the essence.
The Mail Man – making his job a little bit easier making sure your mail comes right to your door and not left with a neighbour or redirected somewhere else.
Takeout – yip, it's good to get the food when it's still hot – if they can't find you, it may well end up on someone else's plate.
Friends and family – they don't want to be driving around looking for your house when the party has already started. Let guests know exactly where you live.
Welcoming and professional
Our signs look great. The numbers are clear and large. They come in a variety of colors and shapes and can be ordered in 3 different sizes.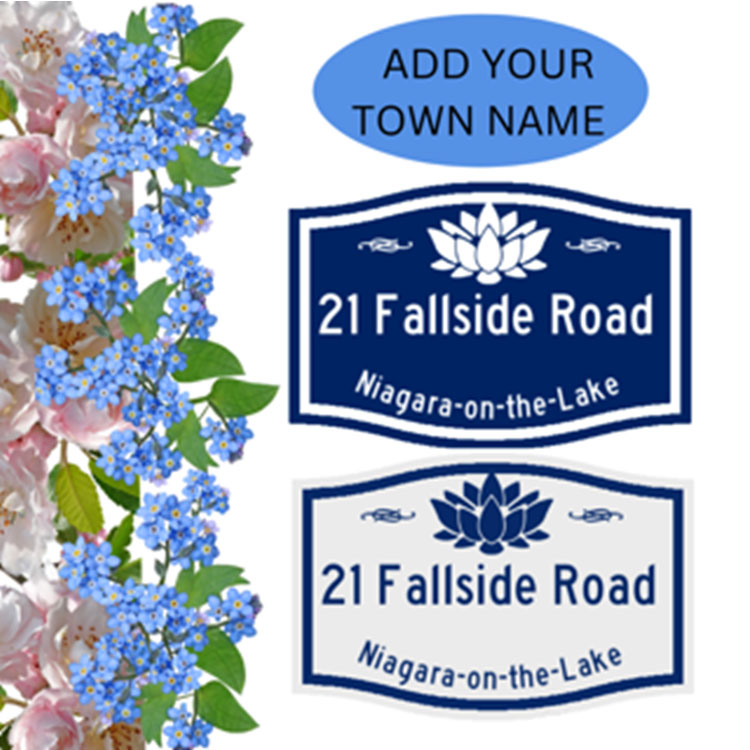 Your identity begins at the front door. We have a huge range of symbols that can be added to your bespoke sign. If you are a gardener, we have flowers, if you love dogs, we have dogs, if hockey is your thing, that's also there. No matter what your passion is, we will have a symbol for you to add to your address plaque.
Try a few using our Signwizard. See them all in real time, onscreen, and then choose the one you like the most.
Saving you time - Save your time arranging postal redeliveries. If the mail man can't find your home due to no signage you may have to spend some time on the phone. Your time is valuable.
Concluding...
The appearance of your front door says a lot about what to expect on the inside of your home. It's your first point of contact with the outside world. First impressions really do matter. No matter what weather conditions you face in your area, our HDPE signage can easily withstand it. We guarantee it!
If you want to know more, you can contact us at:
Email: hi@signs4you.plus
Telephone: 647-372-2815
Go to our range of HDPE signs where our Signwizard is ready to help you to create your sign.
Note: All our signs are proudly made in North America and designed in and shipped across North America.
Signs4you are the only sign shop to specialise in HDPE creations for signage.